Trouver une maison est une tâche bien difficile. Notre premier choix a été refusé après le rapport d'expertise qui l'a trouvée trop près de la faille sismique. La seconde avec son charmant bosquet aurait été un peu grande et lourde en entretien.

Finding a house is a difficult task. We had to discard our first choice, the builder report showed it was built too close to the fault line. The next one despite its pretty native bush would have been slightly too big and too much maintenance.
We had to change completely our technique, forget the native bush, the guzzling creek and the mountains. Why not a beach house, plenty of sleeping space for visitors, a large open living area and the sea less than 10 m from the fence, at high tide... a couple of miles from the golf and not nuch more from the airstrip!

Devant le peu de succès de nos recherches de forêt et murmure de ruisseau, nous avons changé de méthode. Pouquoi pas une maison au bord de la plage, de la place pour héberger les visiteurs, une grande piece à vivre, vue sur la baie et à moins d'une dizaine de mètres de la mer, à marée haute... 3 km du golf et guère plus de l'aérodrome!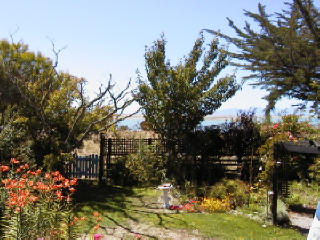 Gate to beach - Portillon vers la plage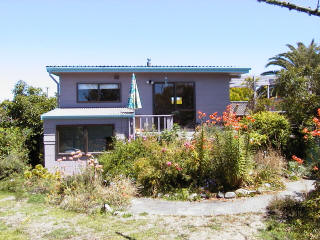 View from back garden - Vue du jardin côté mer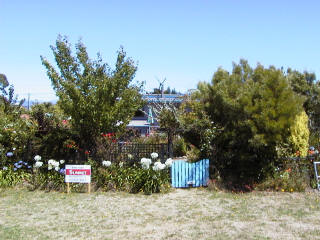 View from seashore reserve - Vue de la pelouse en bord de mer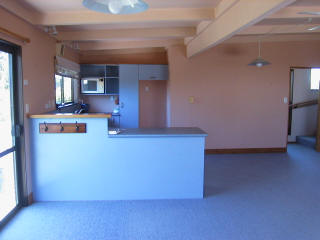 First floor open space - La pièce principale du premier