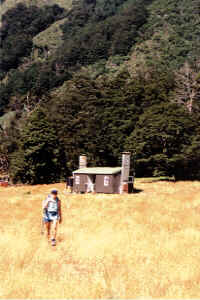 West Matukituki valley
Beautiful Valley with a lot of tracks of various difficulty to beautiful places.
ROB ROY GLACIER: *** Short and beautiful walk to a pretty hanging valley with excellent views on the peaks and the glaciers.
LIVERPOOL HUT: *** Very steep and rough track from the Matukituki valley to a tiny cosy hut with good views of Aspiring range. Scope for exploring the upper valley and peaks.
SCOTT'S BIVVY: ** In a patch of ribbonwood is a small rock shelter. Low of ceiling but convenient for two. Upper valley leads to a steep route to Bevan col. Lots of flowers, snowy peaks and glaciers.